We bring you a cost guide to help you plan your dream wedding in a beautiful villa!
Do you dream of holding your wedding in a gorgeous villa, but find yourself lost and clueless in arriving at a cost estimate?
Do not be!
Read our article, as we have interviewed the experts in charge of managing the villas, to provide a cost guideline that will help you in planning your wedding in beautiful Bali!
Going Large
Couples who have an extensive list of guests on their wedding invitation list, or who would like to have a larger number of friends and families reside with them will find it ideal to hold their wedding within a large and spacious villa. Apart from offering guests with of a myriad of entertainment amenities, these villas also provide a greater level of privacy.
What are the average prices that I should expect to pay?
This depends very much on two factors – the number of guests that you intend to invite, as well as the seating capacity of the villa. The seating capacity refers to the number of guests that can be seated within the grounds of the villa during the wedding ceremony or dinner reception.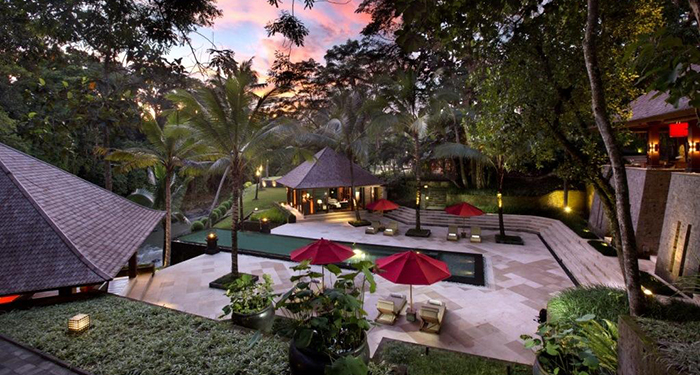 If you intend rent a villa with a maximum seating capacity of…
…50 – 60 people, expect to pay a minimum of US$ 650 and above per night.
…70 – 80 people, expect to pay a minimum of US$ 750 and above per night.
…100 people, expect to pay a minimum of US$ 950 and above per night.
Additional Cost Elements
You need to take into account the following cost elements involved in renting a villa for your wedding event:
Event Fees
An event fee is imposed for holding functions, such as parties, weddings or seminars in a villa. In most instances, a fee that is one to two times the daily rental rate is imposed.
Minimum Stay
In most cases, you are required to book a minimum number of nights with the villa that you intend to hold a wedding event at. This is so as the wedding planners and vendors require additional time to make preparations on site, as well as to remove the event set up after the wedding celebrations have ended.
The minimum period of stay varies, and usually rises during the peak tourist season in Bali. It usually ranges between a duration of three to five nights.
Banjar Fee
A banjar fee is a mandatory fee imposed by the local community for holding an event within the village. The payment goes towards covering costs for hiring local guards, parking personnels and other services.
This amount varies, depending on the location or village that the villa is situated in. The rates range between US$ 80 – 600.
Security Deposit
In most instances, the security fee is to be paid upon your arrival at the villa. The amount varies, depending on the villa and the number of guests attending the wedding. It is fully refundable, but is used to cover the costs of replacement or services required in the event that the property is damaged during the wedding.
The amount required ranges between US $1000 – 3000.
Other Cost Factors
What are other cost factors involved in holding my wedding in a villa?
Some other factors that you need to budget for your wedding event include wedding planning services, food and beverages and event decoration.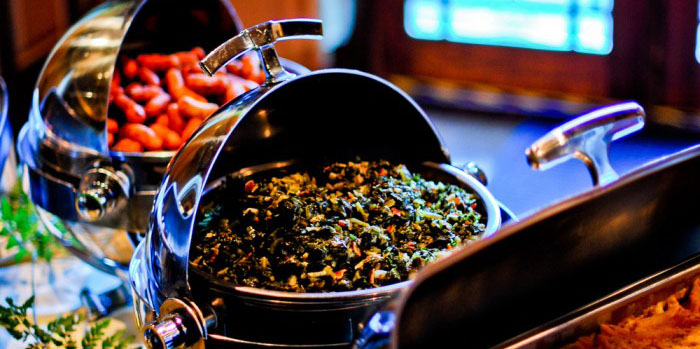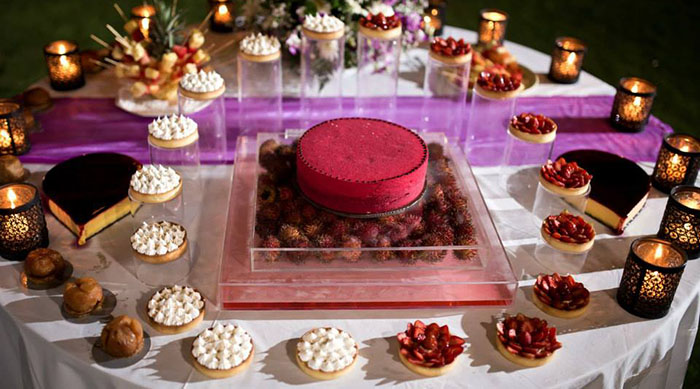 Food
If you pay about…
…US $30 – 50 per person, you may expect basic catering services, done in a buffet style using ingredients sourced locally.
…US $50 – 80 per person, you can expect a greater variety of dishes using a mix of ingredients sourced locally, as well as from abroad.
…US $80 and above per person, you can expect a meal consisting of several courses, served with fine cutlery and excellent service.
Certain caterers may include a selection of finger food and snacks in the evening, before the start of the dinner reception.
Beverages
No Alcohol
If you do not intend to serve alcohol, a budget of about US $ 5 – 10 per person will provide an unlimited serving of drinking water, tea, coffee and soft drinks.
Bring on the Booze!
For a budget ranging between US $50 – 70 per person, you may expect to be provided with a narrow selection of alcohol. If you would like to provide unlimited servings of alcohol lasting the entire night, you can expect to pay prices ranging between US $100 – 200 per person.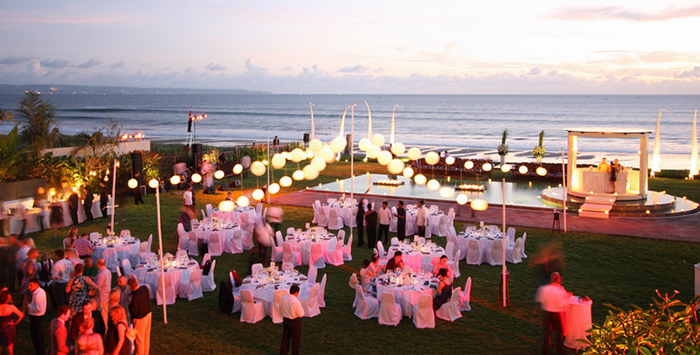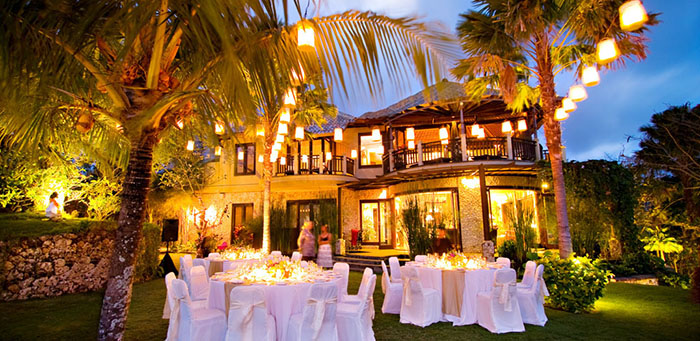 Event Decoration
Bedecking the Villa in Blooms!
For US $1000 – 1500, you may expect…
Decorated chairs for your guests

An aisle covered in petals

Several floral decoration items

Flower shower

Bouquets for the bride and bridesmaid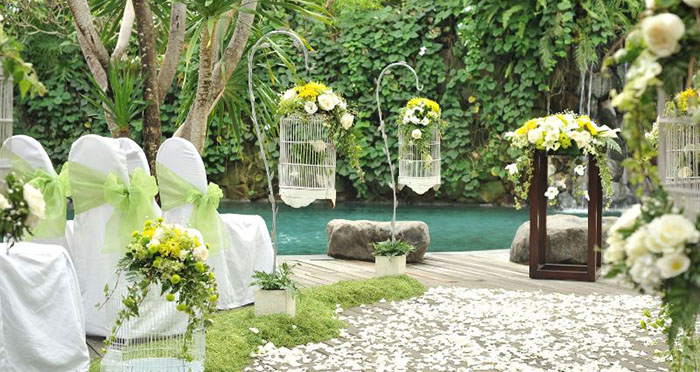 If you desire elaborate floral decorations, expect to pay a price ranging between US $3000 – 5000. You may expect to have…
Floral decorations along the aisle

Altar with a flower arch

Chairs decorated with garlands or floral pieces

Flowers for the bride and bridesmaids

Flower boutonniere for the groom and groomsmen

Table floral decorations

Floral decorations for the reception counter
Do note that the cost estimations provided serve as a guideline, and that actual costs quoted by wedding vendors may vary.
This is so as it is difficult to provide an accurate estimate for certain elements, such as event decoration, as the price may fluctuate greatly due to factors such as the source of flowers, the quantity of floral decorations required at a specific venue and the number of guests attending the wedding.