This is the second segment to my interview with Jenn Hallak!
In this post, she tells us all about her thoughts on trends in the wedding industry, her opinion of destination wedding, tips and advices for wedding couples and lastly, a very exciting project that The Overwhelmed Bride has recently launched!
Wedding-Bali.com: Jenn, what do you think are the wedding trends this year?
I think the current trend for brides is the D.I.Y look, but not doing up the look themselves. Things such as very personalised invitations that aren't your typical traditional and formal invites, or Instagram signs that look like chalkboards, but are professionally-made…pretty much anything that says, 'This is totally the bride and groom!' Couples are adding a personal and unique touch to their wedding day and I love that!
I also think that rustic weddings are a prevalent trend, but this is something that I cannot wrap my head around. I absolutely love them, and rustic weddings are some of my favourites, but I do not get why a bride who loves the city would wear cowgirl boots on her wedding day!
I know that a trend is a trend because everyone wants it, but I love weddings that are personal, and I think that a wedding day should reflect the personal preferences and traits of the wedding couple!
What is your opinion on the the trend of destination weddings? Do you think that it is merely a fad, or do you think it is a trend that is here to stay?
I don't ever really see them getting so popular that every bride wants to do it. Don't get me wrong – I love the idea of destination weddings.
Yet, I feel that family plays a huge part in a wedding. While some couples choose to have a destination wedding in order to get away from that and to keep costs low, I think that there are too many couples who just cannot imagine their wedding day without all of their family and friends present. I don't think that destination weddings will truly catch on as a prevalent trend.
However, I feel that for couples who do not have the funds to feed two hundred people at the time of their wedding, or desire an intimate ceremony, destination weddings are beyond perfect!
Do you have any favourite locations for destination weddings?
I would love a destination vow-renewal ceremony someday…maybe Bali?? ; )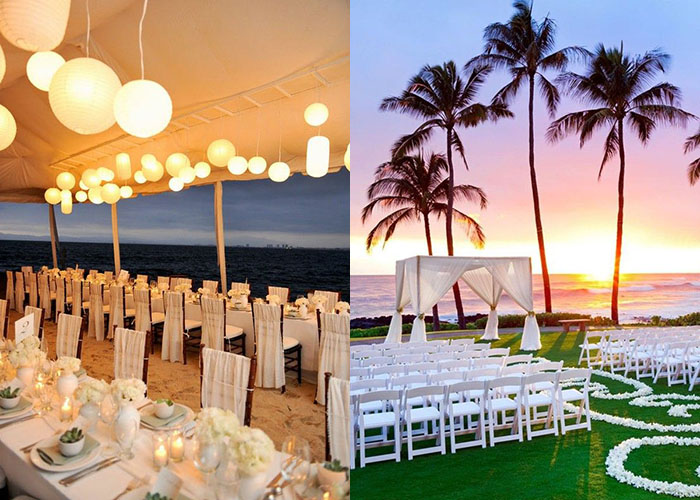 What do you think are common difficulties or challenges that brides or grooms face in the process of planning and coordinating their wedding?
Well, you'll have to read my book to see the issues that I think are most prevalent and stressful, as well as the ways to overcome them. (Jenn launched her book, The Overwhelmed Bride this year. ; )
In my opinion, the top challenges are the budget and guest list. We want a pinterest-perfect wedding, but only have a limited budget so this can become stressful. We also want to invite everyone that we've met and not to hurt anyone's feelings, but unfortunately, budget comes into play here!
Also, the guest list was the most difficult part during the process of planning my own wedding!
Here's our last question for you: Do you have any tips and advices for brides and grooms-to-be?
The one piece of advice that I have for couples is to understand that your wedding day is about your marriage. The wrong cake showed up at my reception, the zipper on my sister's bridesmaid dress broke and we had to sew her into it, it was a cloudy day by the beach and my curls straightened out (bad planning on my part!), but ultimately, I am part of a wonderful marriage and my wedding day was my first day of "forever".
Something will always go wrong on your wedding day, and there will be tears along the way.  Yet, in the end, what is most important for you is to imagine yourself and the love of your life sharing a lifetime together. Your wedding is just a bonus. 😉
We've come to the end of the interview! Do you have anything you want to tell the readers of Wedding-Bali.com about?
There is one thing I would love to add –  we have just started a new project here at The Overwhelmed Bride!
Just this week, we launched a new project called Circle O'Love.
We are currently on a nationwide search to find a couple truly deserving of a wedding. The couple will choose an organisation to conduct fundraising for. The amount of funds that are donated to the organisation will be the wedding budget that we give them to plan their wedding. Of course, we will plan their wedding with them!
So, if you are a vendor, and would like to donate your services (if we happen to choose a bride in your area), or if you know a couple that you think is perfect for nomination for Circle O'Love, please visit our website at http://www.theoverwhelmedbride.com/circle-olove.html!