This week, Wedding-Bali.com meets up with Jenn Hallak!
Jenn is the founder and owner of The Overwhelmed Bride, a love and wedding blog, as well as a wedding coordination company based in the U.S. Jenn's blog offers a great variety of inspirational and engaging content for brides, and I am thrilled to have her and The Overwhelmed Bride in Wedding-Bali.com's 'Meet the Wedding Experts' column!
Cheerful and enthusiastic, Jenn is truly passionate about all things love and wedding. In this first segment of my interview with her, she talks about her experience in the wedding industry, the roles that she is involved in for The Overwhelmed Bride, and also shares on the most memorable wedding that she has worked on thus far!
Wedding-Bali.com: Hi Jenn! First, let's start with a self-introduction. ; ) What are your interests, and what do you enjoy doing in your free time?
Hi everyone! My name is Jenn Hallak, and I am the founder and owner of The Overwhelmed Bride. The Overwhelmed Bride is a love and wedding blog, as well as a coordination company that helps brides to have a stress-free wedding day.
I love everything about love, and love everything weddings so I am truly blessed to have a career that I love every single day…well, at least on most days. 😉
A lovely photo of Jenn and her hubby, Frank!
Tell me a little more about your previous jobs. Which was your favourite job, and how did these jobs influence your decision to start The Overwhelmed Bride?
I started my experience in the wedding industry six years ago, by doing an internship with a wedding planning company. I joined the company while I was in college, after a senior who had started her own wedding planning company sent an email to our chapter stating that she was looking for interns. I did my internship with the company for three years, learning the ropes in wedding planning and day-of-coordination.
When it was time for me to graduate and to look for a "real" job, I knew that weddings what what I wanted to do. I landed a job in Southern California as the Catering Sales Director with Wedgewood Wedding & Banquet Centers, where I opened one of their properties in Upland.
I was transferred to another property of the company at a later stage. After working for about six months there, I decided to seek out new job opportunities, and landed the position of Wedding Venue Consultant with EverAfter (formerly known as 1-800-Registry).
EverAfter was a start-up, and we helped couples to find their dream wedding venue by doing all the research work for them. Couples told us their budget and what they were looking for, and we found venues for them, so that they could avoid the much dreaded process of researching for venues!
It was amazing to work for EverAfter – I loved the start-up environment, being able to affect positive change in the company, and helping brides in the process of working, After about a year with EverAfter, I didn't see myself working there forever and I left to look for my dream job.
I left the company before I found a new position elsewhere, so I began blogging during my free time. I called my blog 'The Overwhelmed Bride' – it was all just fun and games for me, and a means for filling up time that wasn't spent on working.
However, after a while blogging started to catch on. I found myself thinking, 'Hey, I really love this!' I also saw that other bloggers founded their blogs in the same way that I had started out, and developed it into full-time positions that they were passionate about.
So that was how it all began – as an accident in November 2013. I love every minute of what I do, and making a positive impact on a bride's amazing experience. I cannot wait to see where The Overwhelmed Bride goes from here, and I love seeing how my advice and expertise help new brides each and every day!
What are your favourite resources or platforms for wedding-related information and stories?
I absolutely love Pinterest, along with the rest of the world. There is so much amazing inspiration that you can get from the images there.
However, I feel that it should be used with caution. There are so many resources available these days, and too much inspiration, particularly inexpensive inspiration, actually stresses brides out more than if it wasn't there at all. I do caution brides to use these resources with care. ; )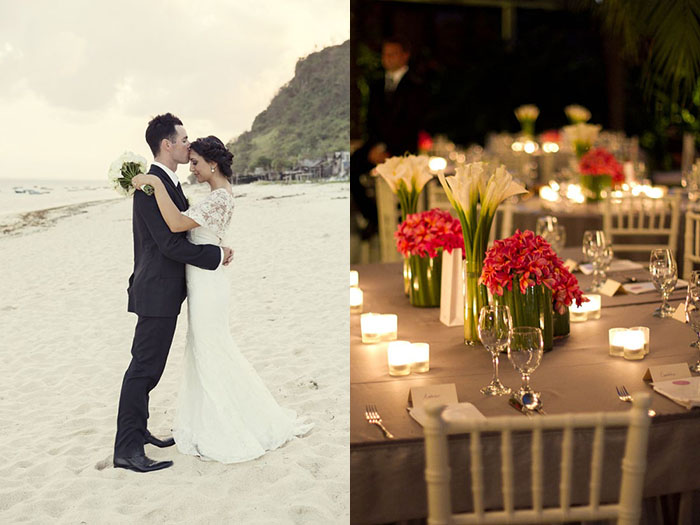 How is a typical day at work for you like?
There is no typical day, really.
Each morning, I go through my emails to make sure that my inbox is cleared. Throughout the day, I also post up inspiration on social media for my bride followers, work on new blog posts, work on series and shoots for the future, discuss about new ideas with my interns to come up with fun things that brides would love to see from us, and also setting up meetings with vendors in the industry to collaborate with.
I do everything I can to market our brand, and to put out the best content that brides would love to read, while planning weddings at the same time!
On top of all that, I am a housewife. I clean the house, do the dishes, cook, take the puppy to the park, and so much more. It is tiring and gets to be a lot at times, but I love what I do and wouldn't have it any other way!
Meet Jenn's  family!
As a wedding coordinator, what are some of the most challenging weddings that you have been involved in?
I don't have any weddings that were particularly challenging. Personally, I feel that the most challenging couples to work with are the ones who do not know what they want.
I know that many feel that the opposite is true. However, I think that if you have no inspiration, it is much harder to help you find the perfect vendors for your wedding, as opposed to if you were to be picky and tell me exactly what you want.
I love picky brides as I can find them what they want within a shorter time, and decisions are made more quickly.
What about the most memorable weddings that you have worked on?
My most memorable wedding so far would have to be our 4th July wedding this year. Not only did we have the most amazing fireworks during the wedding, it was also our very first Overwhelmed Bride wedding!
It was a huge stepping stone, and all our hard work paid off! While I have some more weddings lined up, it was so exciting to see the first event of The Overwhelmed Bride!
Here's The Overwhelmed Bride team!
I have a second segment to my interview with Jenn coming up next week!
In my next post, Jenn shares her thoughts on trends in the wedding industry, her opinion of destination wedding, tips and advices for wedding couples and lastly, a very exciting project that The Overwhelmed Bride has recently launched!