We bring you five spectacular wedding villas in Ubud!
Do you find it difficult to select a city or region for your wedding in Bali?
Do not fret – we are here to help you out! If you are in love with the expansive sight of emerald rice fields and tropical jungles, want to indulge in pampering spa treatments, love yoga and seek a peaceful city with 'good vibes', look no further – Ubud is the perfect place for you!
Join us as we explore Ubud, and bring you five spectacular wedding villas:

Villa Awan Biru
Maximum Capacity: 50 (seated) / 70 (standing)
A traditional and spacious abode containing five bedrooms, Villa Awan Biru is set in a beautiful location containing lush rice terraces, ancient temples and meandering rivers. The renowned Mount Agung can also be seen in the distance.
All bedrooms in the villa are well-decorated, and contain a variety of Oriental ornaments representing the different regions and diverse cultures in Indonesia.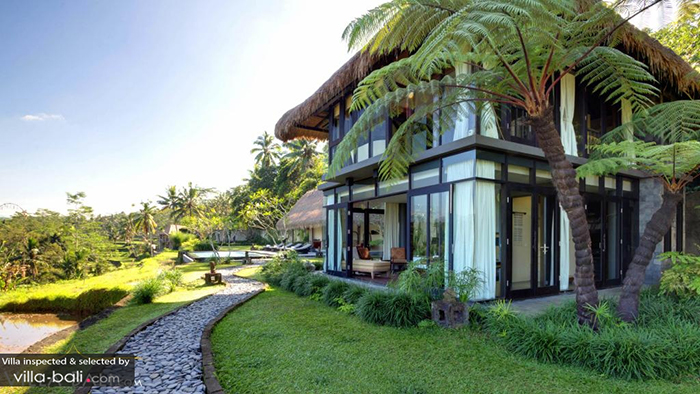 Villa Kelusa
Maximum Capacity: 50 (seated) / 70 (standing)
Tucked away at the edge of a dense, tropical jungle, guests seeking a respite away from the sights and sounds of a bustling city will delight in the peace and tranquil ambience that Villa Kelusa offers. The villa overlooks the expansive rice fields and flowing rivers that it is surrounded by.
Villa Kelusa also offers the best of both worlds. It offers guest with a tranquil and restful stay, but the villa is not situated in a remote and distant location – a short fifteen minutes drive is required for guests to arrive at the nearby organic restaurants, spa parlours and Hindu temples.

Villa Omah Padi
Maximum Capacity: 50 (seated) / 100 (standing)
Guests at Villa Omah Padi will enjoy waking up to the sight of the emerald rice fields each morning during their stay at this homely abode.
Traditional architecture and materials such as wood, stone, bamboo and thatched roofs are used to construct Villa Omah Padi, lending a rustic and cosy vibe to the villa.

Villa Atas Awan
Maximum Capacity: 100 (seated) / 150 (standing)
Step into the compounds of Villa Atas Awan, and you will be impressed by the view before your eyes. Perched along the edges of the rice fields of Ubud, the villa sits at a spot six hundred metres above the sea level. The villa is also surrounded by tropical flora, and promises to offer its guests with a relaxing and authentic Balinese experience.

Villa Jeeva Saba
Maximum Capacity: 200 (seated)
Villa Jeeva Saba is a gorgeous villa that offers its guests with a scenic sight of its surroundings. Glance out into the distance, and you will enjoy the panoramic view of the Badung Strait, as well as the peaks of nine volcanoes towering in the distance.
The well-maintained garden in the villa can accommodate a total of two hundred guests, making it an ideal spot for a large-scale wedding celebration. With the boundless ocean as a picturesque backdrop, we highly recommend that couples hold their wedding ceremony and photography shoot in the verdant lawns of the villa.