Dreaming of holding your wedding in a lovely villa in Bali? James held his wedding at the Hacienda Villas in Canggu recently – find out all about it here!
Why did you and your partner decide to hold your destination wedding in Bali?
We were looking for a glamorous overseas destination that would give our friends and family, who were travelling in from the UK and Europe, a truly unforgettable experience. We also wanted something that wouldn't bankrupt us in the process.
We started off looking at private islands near to our home in Singapore but quickly realised we would get a lot more for our budget (in terms of activities and enjoying the nightlife) by travelling to Bali.
What are some of your favourite features of the Hacienda Villas?
The obvious answer is the villas themselves – they're stunning, with wonderful, large rooms, indoor and outdoor bathrooms, private pools and huge living and dining areas. Our guests were blown away.
Another feature was the people – Hacienda Bali employs the friendliest, most helpful staff you're likely to find anywhere. They literally couldn't do enough for us, making our big day everything we hoped it would be and more.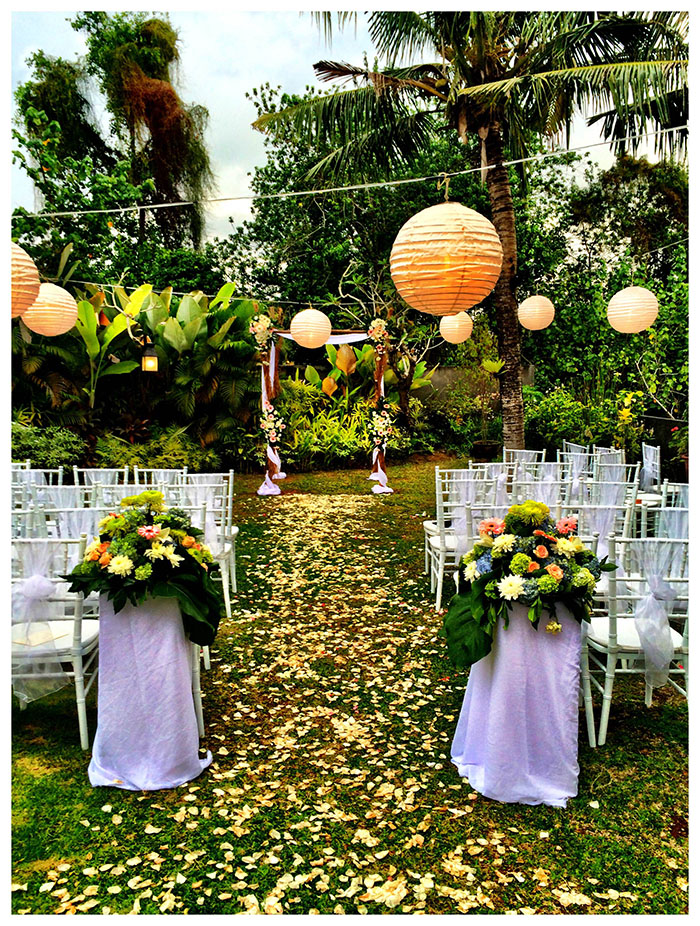 How did you schedule the different segments of your wedding?
The morning of the wedding was kept free for the groom and ushers to play golf at the fabulous Nirwana Golf Club (only a fifteen minutes' drive away), and for the bride and ladies to have a morning of pampering treatments and being made-up. Everyone was back in the resort after lunch, and the wedding ceremony was scheduled to start at 5 p.m.
We kept the ceremony relatively short, and our brothers actually came up with a performance for our ceremony on their own. We did not need an official celebrant, as we had already been officially married before we left Singapore.
At about 5: 30 p.m., champagne was served, and our family gathered for photo-taking in Villa 5. Other guests retreated to Hacienda Bali's bar for drinks and canapés. Dinner was served at 7: 00 p.m., with all forty-seven of our guests seated around one big table.  – something I'm sure not many venues in Bali can accommodate?
We had the usual speeches (in fact, probably a lot more than usual, as the bride is Swedish. In Swedish tradition, anyone can make a speech, if they want to!). At 10 p.m., we held our cake-cutting ceremony, which was served with tea and coffee in the tower above the bar. Afterwards, everyone returned to the bar and restaurant to dance the night away. First, we had a live band playing for our party, and a DJ at the later part of the night.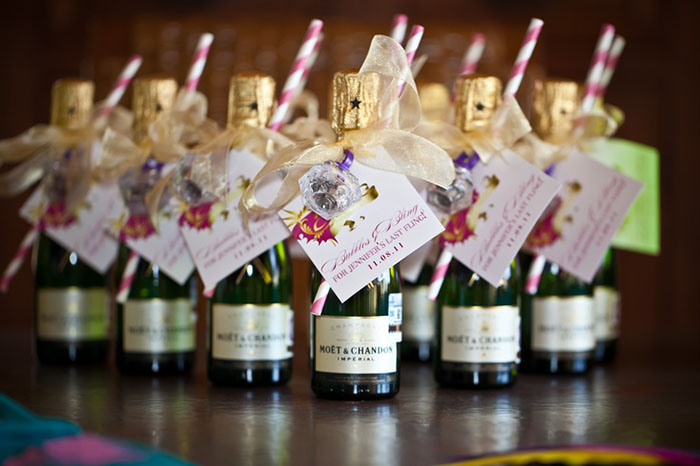 Which was the most memorable segment of your wedding celebration at the Hacienda Villas?
It was all fantastic, to be honest. Most of our guests stayed for the whole week, and we did everything ranging from trips to Ubud, to surfing, scuba diving and nights out in Seminyak's coolest beach bars. These bars were located relatively close by, and it was easy to reach by taxi, or with Hacienda Bali's drivers.
I think the best part was the ceremony itself. It was really unusual, with only friends and family taking part, and in the gorgeous surroundings of Hacienda Bali's verdant gardens. Definitely something we'll never forget, and hopefully our friends can say the same.