Mention Bali, and it is likely that brides and grooms-to-be indicate that their top choice for a wedding venue would be a beachfront setting that overlooks the glorious Indian Ocean!
We found this question while poking around in the forum threads seeking advice on weddings in Bali, and fished out this question:
My partner and I are looking for a venue with a 'wow' factor, and can accommodate a total of about fifty guests. We are not thinking of holding our ceremony or reception on the beach, but would like a venue that overlooks the beach and provides a nice view of the sunset.
Our Answer:
We reviewed our portfolio of wedding villas, and bring you the following selections of stunning villas perfect for a beachfront wedding celebration:


Villa Lalang
Location: West Bali, Tabanan
Maximum Capacity (seated: 75 / standing: 150 )
The expansive and sprawling grounds of Villa Lalang makes it the perfect venue for hosting large-scale weddings and events. You and your guests can take in the scenic sights of the black sand beaches from the comforts of the villa.
If you and your partner are keen on venturing out to the beach for a post-ceremony beach wedding photography shoot, you will be pleased to know that there is a little road leading from Villa Lalang. It takes a quick three minutes' walk is to arrive at the beach from the villa.


Villa Kailasha
Location: West Bali, Tabanan
Maximum Capacity (seated: 100 / standing: 150 )
The lush, tropical garden of Villa Kailasha is a beautiful setting that is perfect for holding wedding celebrations and events. Take a walk through this well-maintained garden, and enjoy the scent of floral blooms, as well as the refreshing gusts of sea breeze blowing in from the beach.
Similar to Villa Lalang, it takes a quick three minutes to walk from Villa Kailasha to the beach.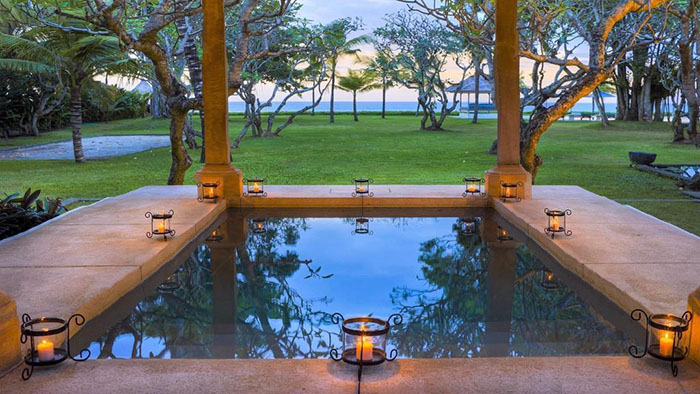 Villa Atas Ombak
Location: Seminyak
Maximum Capacity (seated: 150 / standing: 200 )
Grand, majestic and stately are three words that we would use to describe the lovely Villa Atas Ombak. The grounds of the villa are commodious, and can comfortably accommodate large number of guests.
Villa Atas Ombak is also located in a perfect spot, along the Western coast in the South of Bali, and offers fantastic sunset views. Brides and grooms-to-be will delight in knowing that the beautiful surroundings of the villa offers an amazing backdrop for sunset wedding ceremonies and photography shoots.


The Istana Villa
Location: Bukit Peninsula
Maximum Capacity (seated: 100 / standing: 150 )
The Istana is one of the most popular wedding venues in Bali, and it is not difficult to see why. The interiors of the villa are sleek and classy, and will appear to brides and grooms with an eye for modern and stylish designs and interiors.
Similar to Villa Atas Ombak, The Istana sits upon a perfect spot, and provides a magnificent view of the sunset that will prove to be an unforgettable sight.