Simple, elegant, feminine and eye-catching are four words that I would use to describe the wedding gowns designed by Ee-lyn Tang Pulham of Love, Yu.
Ee-lyn decided to pursue her dreams and passion in design, and started her label, Love, Yu in 2009. Since then, she has gone on to produce a series of bridal collections, and her gowns can be found in various locations around the world, such as USA, Canada and Hong Kong.
I caught up with Ee-lyn recently, and we talked about her work, inspirations and thoughts. Let's hear what she shared on in this interview!
Wedding-Bali.com: Hi Ee-lyn! Let's start with a self-introduction. ; ) What are your interests, and what do you enjoy doing in your free time?
Hello!
My husband and I are both pretty active, so we do a lot of sports, such as running or jogging during our free time, and take part in running races.
I also enjoy hanging out with my girlfriends at cafes and restaurants. New places are always popping out here, and I like to check out the new eateries.The last place I went was a Mexican restaurant called Lucca Loco, which was great.
I heard that you worked in the banking industry prior to starting your own label. Have you always been interested in fashion and design? When, and what made you decide to enter design school, and to start your own label?
I have always been interested in fashion. I worked for two years in operations in the banking and commodities sector. I felt that working in this field was not for me, so I decided to study merchandising and marketing at Parsons School of Design, in New York.
My initial plans were to work as a buyer or merchandiser, but eventually I ended up starting my own label. I launched my cocktail dress label Yu in 2006, before embarking on designing bridal gowns, which falls under the label Love, Yu in 2009.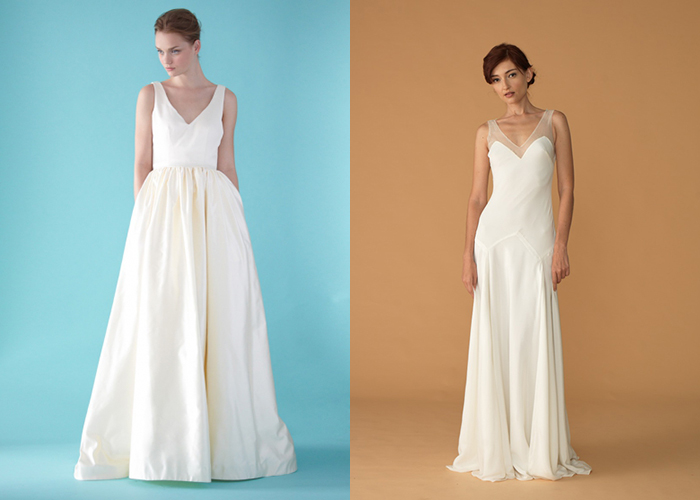 Designs from Love, Yu
What is a typical day at work for you like?
Design work is a large part of my job. Love,Yu produces two collections each year, and I am also launching out an evening gown collection soon. The design process usually takes about two to three months, starting from designing my collections, to having the sample pieces made.
I am also involved in managing the production and delivery processes for my label. Before a new collection is launched, I prepare the launch campaigns, and am involved in aspects such as designing and coordinating photo-shoots for my new collection.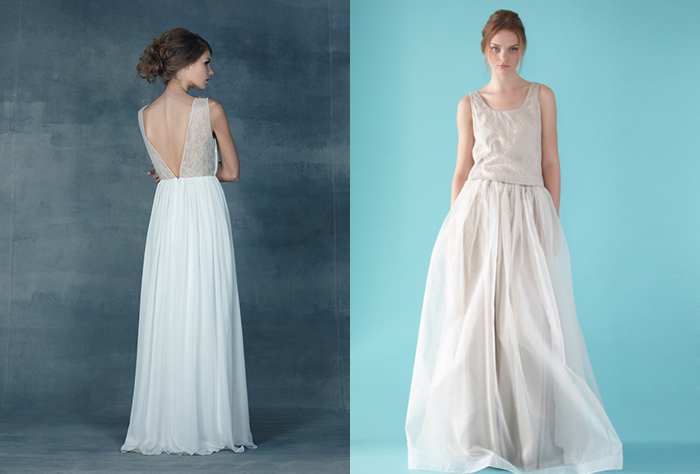 Designs from Love, Yu
Apart from designing the pieces, which aspects of your work do you enjoy most?
I enjoy planning the campaign shoots for our latest collections, as well as styling the shoots for these campaigns.
Apart from Singapore, Love, Yu is stocked in boutiques in other parts of the world, such as the USA, Canada and Hong Kong. How do you reach out to your clients from overseas locations?
I participate in trade shows, such as the New York International Bridal Week which is staged twice a year. I also take part in trunk shows, which are basically weekend sales events at boutiques where I'm stocked at.
Where else are you looking to expand towards?
Currently, my designs are stocked in two boutiques in Europe, located just outside of London. I would like to expand towards selling my gowns in more locations within Europe, as well as to Australia.
Are there any fabrics or dress silhouettes that you like to work with, and why?
My favourite materials to work with are different types of silk, such as chiffon. I also like tulle.
I think brides pictures a big, huge poofy skirt when they think of tulle gowns, but I like to use the fabric to create much softer looks.
One of my favourites are sheath dresses. They are easy to wear, compared to other styles, such as a trumpet cut.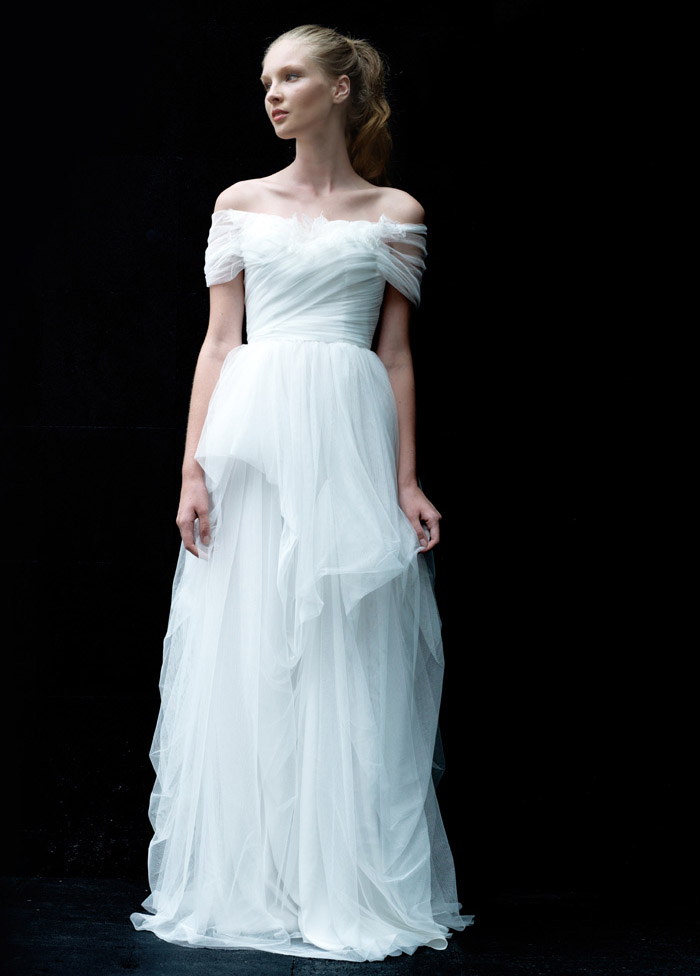 A lovely tulle dress from Love, Yu
Do you have a favourite piece or collection among your designs?
Yes, I do.
My favourite is a piece called Aster. It is from my second collection, and also one of my most popular styles among my customers. It is quite the classic, and still remains popular even after two to three years.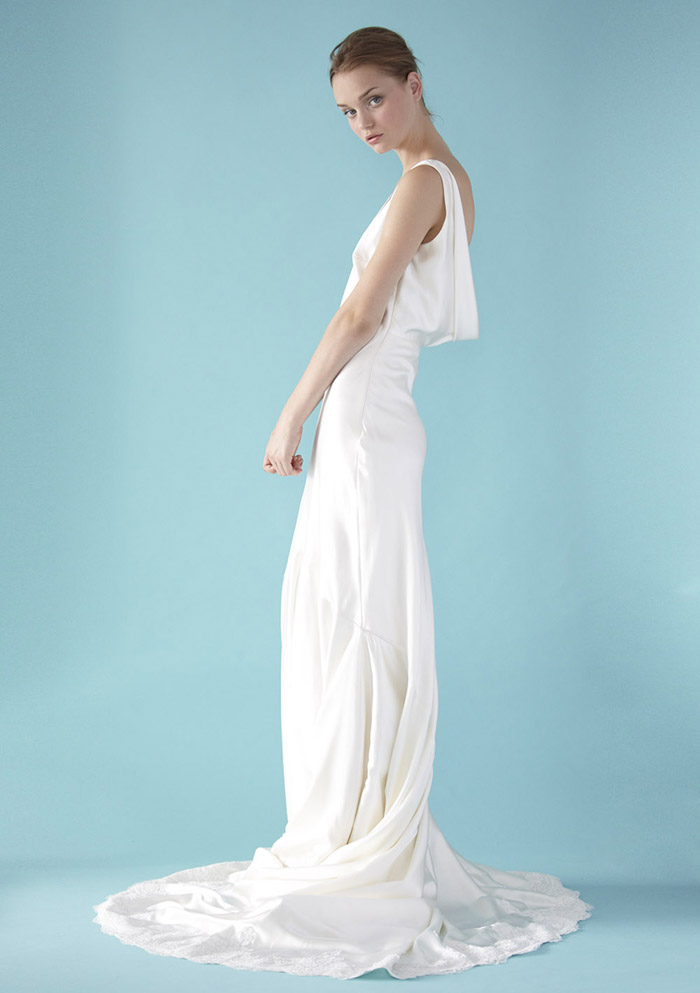 Aster
Are you inspired by sources within, and outside of the wedding industry? Tell me more about your sources of inspiration. Who are your favourite fashion designers?
I am inspired by couture collections by labels such as Dior, Elie Saab,Giambattista Valli.
I do try not to look mainly at bridal labels for inspiration so as to keep the designs of our pieces fresh and different. One of my favourite designers is John Galliano, when he was working for Dior before the saga happened. I also think that there are several Middle-Eastern designers that are really good, such as Elie Saab and Zuhair Murad.
I also find inspiration from magazines, or from other people. Fashion and clothing are an inspiration – it could be separate pieces, such as skirts and tops. It is not just from the fashion today, but also fashion in the past. For example, in films and movies, the style of fashion icons, such as Audrey Hepburn, remains a classic that lasts over time.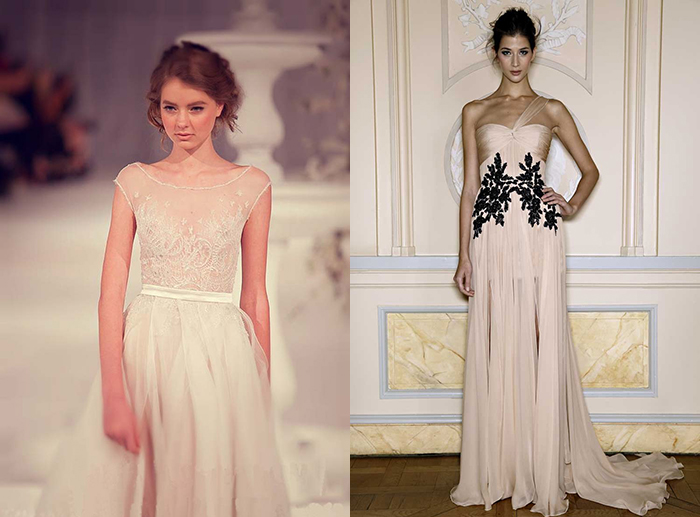 What do you think are the latest bridal gown trends among brides?
I think some of the latest trends are illusion necklines, as well as backs with lace and bouquet designs.
Having finer details in the dresses is popular – for example, fine beadwork found perhaps on just the sleeve of the gown, a blush lining or nude lining in the dress, and also having a bit of pastel colours in the gown. I think that an interesting and unique back design is one of the strongest trends now.
Can you share some tips that will help brides in selecting their dream wedding gown?
I would recommend that they try out gown samples and as many different dress silhouettes as they can. Sometimes you may think that you like particular kinds of silhouettes, but trying it on will enable you to see if the fit is right for you.
Also, they can also bring along one or two family members or friends along for the fitting session, to get a second opinion. I wouldn't advise that they bring along more people. Everyone is different – some of us like having lots of lace details, while others prefer a cut that is simple. It really depends on the individual, and it can get more confusing to hear too many different opinions.
What is your opinion on the trend of destination weddings?
I don't think it is just a trend. I think wedding couples want something different, and there are limited locations in Singapore. Destination weddings also double up as a vacation for the wedding couple and their guests.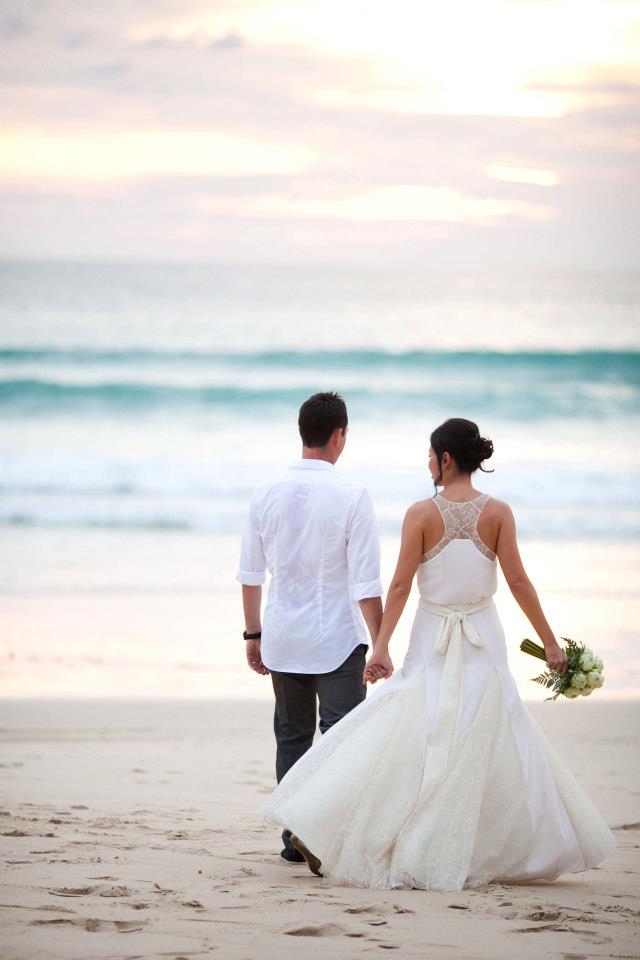 Here's Ee-lyn and her husband at their destination wedding in Thailand!
What kinds of wedding dresses would you recommend to Bali brides-to-be?
For an outdoor wedding, I would recommend dresses with natural fabrics. Cotton dresses will create a more casual look – other materials such as chiffon or silk are great as they are light, and more "breathable".
Ee-lyn would also like to share with all of you about her new evening gown collection that will be launched in the later part of this year! It is not only great for brides – this collection features evening dresses that friends and relatives of the brides can also wear for the wedding celebration. Keep a lookout for this collection on Love, Yu!