Feeling lost and clueless about having a legal marriage in Bali? Team Wedding-Bali does an intensive search up, and presents a comprehensive guide!
Individuals from Countries Without Consulates in Bali
For individuals of most nationalities, the processes of getting married in Indonesia are relatively similar. These processes increase in complexity, for individuals belonging to countries without consulates in Bali.
If you fall under the latter category, what are the steps that you can take?
You may…
Opt to finalise all the required paperwork and carry out legal marriage procedures in your home country. When you have arrived in Bali, you can choose to conduct wedding ceremonies that do not have any legal implications.
Have a friend or relative assume the role of a ministrant, and to preside over your commitment ceremony.
Individuals from Countries with Consulates in Bali:
You may refer to this link, or check with your wedding planner about the updated list of Consulates located in Bali.
Things are less complicated for individuals belonging to countries with consulates located in Indonesia.
1. Couples of Islamic Faith
If you are of Islamic faith,  a legal marriage in Bali will involve both a religious, as well as a civil ceremony.
Documents
You will receive Islamic Marriage Certificates, also known as Buku Nikah. This certificate, issued by the Office of Religious Affairs (Kantor Urusan Agama), are legally recognised in Indonesia.
Also, you do not have to undergo additional registrations with other agencies if you plan to reside in Indonesia.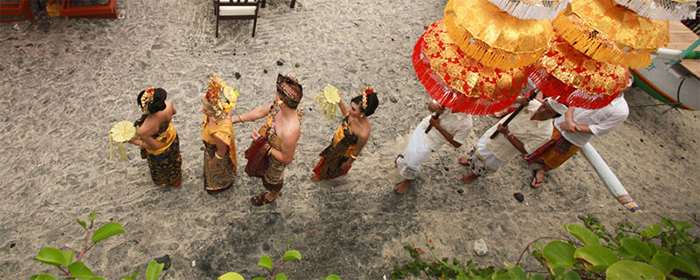 2. Couples of Non-Islamic Faiths
Individuals of non-Islamic faiths will have their legal marriage conducted by officials from the Civil Registry Office (Kantor Catatan Sipil). Religious wedding ceremonies are part and parcel of a legal marriage.
Procedures and Documents:
Firstly, obtain a 'Certificate of Non-Impediment' from your consulate or embassy in Indonesia, as you will need to present this document, when you file for a 'Notice of Intention to Marry' at the Civil Registry Office in the region that you are getting married at.
Certificate of Non-Impediment
This is a letter given by your Consulate or Embassy representative, indicating that there are no objections towards your legal marriage in Indonesia. In order to obtain this letter, you and your bride or groom-to-be will have to make a visit to the the Consulate, and to take an oath that both of you are free to marry.
We advise that you contact your Embassy with regards to the 'Certificate of Non-Impediment', as the requirements of each Embassy may differ.
Documents to be Submitted for the Notice of Intention to Marry:
Certified divorce decree (absolute), or death certificate to indicate the termination of past marriages.
Certificate of Religious Marriage
Eight photographs (measuring 6 x 4 cm) of the couple. The photographs should show only your heads and shoulders. Both you and your partner should be standing side by side, and looking straight ahead. These photographs will be attached to your wedding certificate after it has been processed.
Details indicating your religion (eg. baptism certificates)
Details relating to the occupations and domiciles of both parties
Names, addresses and professions of witnesses
Letter of No Impediment to Marriage
Written document indicating parental consent for individuals who are not yet 21 years of age
Passports (for Foreign Citizens)
Original copies of the above-mentioned documents are to be submitted.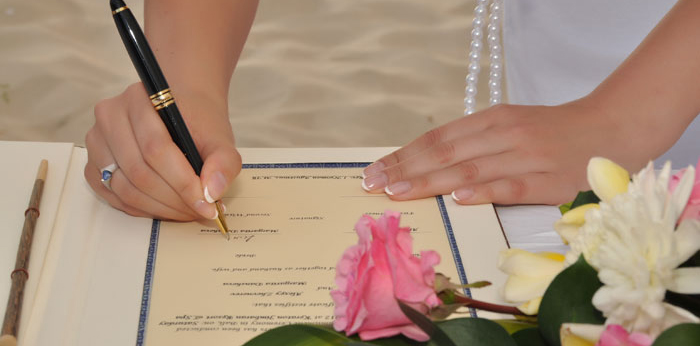 Additional Points to Note (For All Couples Intending to Hold a Legal Ceremony)
i. Presence of Witnesses:
Two witness, above the age of 18, are required to be present. The witness need to present the original and photocopied version of their passports if they are foreign citizens. Local Indonesians will have to present the original and photocopies of their KTP identity cards. You may also ask the employees at the Civil Registry to act as your witnesses.
Do note that this procedure has a Mandatory Waiting Period of 10 working days from the date that you file for the document. This waiting period may be waived for tourists who present the Guest Registration Form (Form A).
ii. Receipt of Marriage Certificate:
Ensure that you are presented with a Marriage Certificate after your ceremony. Most of the documents that you receive will be written in Indonesian. You can have these documents translated either by an authorised translator before you return home, or by the Embassy of the Republic of Indonesia at your home country.
Upon arriving back home, you need to bring the translated copies of the documents for registration at your local marriage registration office.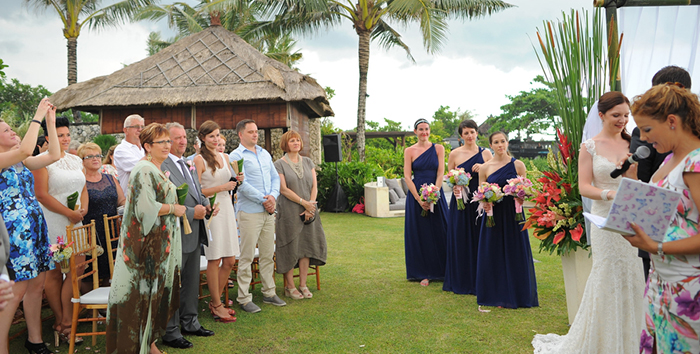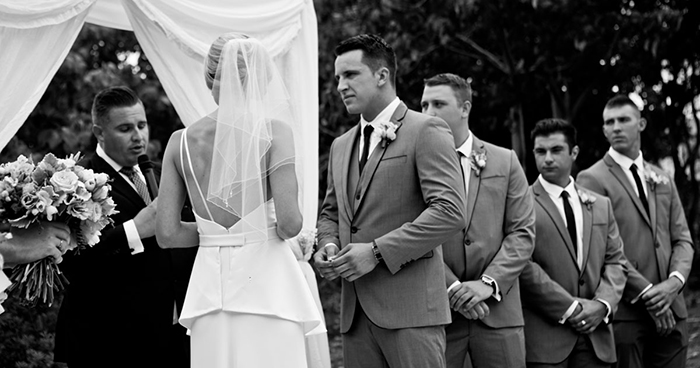 Documents to be Presented (Catholic Couples):
1. Baptism Certificates
These are mandatory, and should be issued not more than six months (and preferably, not more than three months) prior to your wedding date.
2. Letter of Freedom
This document is issued by your parish priest or a church official. It declares that you have not entered into a previous marriage, and are free to marry.
3. Letter of Delegation
Also issued by the church, this document indicates that your priest has no objections towards having another priest from a Catholic Church in Bali presiding over your wedding ceremony.
4. Pre Nuptial Course
5. Pre Marriage Inquiry  
Things to Note:
There are numerous rules and regulations relating to the marriage of Catholic couples. As such, we advise that you dedicate a minimum duration of one month for your pre-wedding procedures.
Catholic wedding ceremonies are not able to be confirmed, until all required documents have been received and verified by the local church authorities.
In the event that you are not able to obtain all necessary documents required, you may still have a Christian wedding ceremony, as long as you are agreeable to having your ceremony presided over by a priest from the Protestant Church.