Wedding-­Bali.com met up with the very personable Hellen Lie, Founder and Principal Designer of Rosette Designs & Co!
We've recently started out on a new segment on our website called "Meet the Wedding Experts". As the name suggests, we meet up with interesting and inspiring individuals from the wedding industry, and bring you their personal stories and insights.
We kickstart this brand new column with a lovely chat with Hellen Lie, the Founder and Principal Designer from Rosette Designs & Co!
Tell us a little bit about yourself. How did you start working as a wedding designer, and what were you working as before?
I am from Jakarta, but have been staying in Singapore for about twelve years now.
I started out working as a motion graphic designer. My last job before founding Rosette Designs & Co was senior designer at MTV. I started on wedding designing as a sideline prior to quitting my day job as it was something I was passionate about.
My passion for wedding design came about after my wedding in 2010. I had difficulties finding a wedding designer in Singapore , as­ there seemed to be only wedding planners and florists.
My husband and I could not find a wedding professional who was solely in charge of designing the 'look' of our weddings. Usually, wedding designers are rather popular in other countries, such as the United States, but this is not the case here in Singapore.
What kinds of services does Rosette Designs & Co offer to wedding couples?
We offer packages for wedding planning, design and décor, as well as coordination on the day of the wedding.
We focus on designing the overall look and "feel" of the wedding. This includes  conceptualising the theme and creating the design of the inspiration board, flowers, decor and wedding stationery. Our strengths lie in wedding design, planning and coordination, and we take care of everything pertaining to the aesthetics of the wedding.
Many couples in Singapore like to plan most aspects of their wedding. However, they need help when it comes to wedding design, as well as running the programme on the day of their wedding.
This is why one of our packages, 'Rosette Two : Design & Coordination' is so popular. It allows the couple the flexibility of planning their own wedding, and the convenience of not having to plan and coordinate the programme on their wedding day.
What is an average day at work like for you?
As a mother of two young children (Hellen just gave birth to her second child two months back!), I do not have the luxury of working five to six hours at a go without interruptions. I work around a segmented schedule.
I spend my mornings with my kids and answer new enquiries that come in. After putting my children to have a nap in the afternoons, I work on the design aspects of the wedding projects. I leave the evenings and nights for meetings with our clients and Skype meetings with my team.
How is the process of working on the design concept for your clients' weddings like?
We start off with working on a mood board,  after discussing the ideas and themes of the design that the wedding couple has in mind. We also present our clients with a colour theme or palette, stationery design, venue layout showing the details of the event set up, decoration plan, as well as flower decor mock ups.
And how long does this design process take?
It usually takes about six to nine months. However, we have also had clients approaching us about three months prior to their wedding.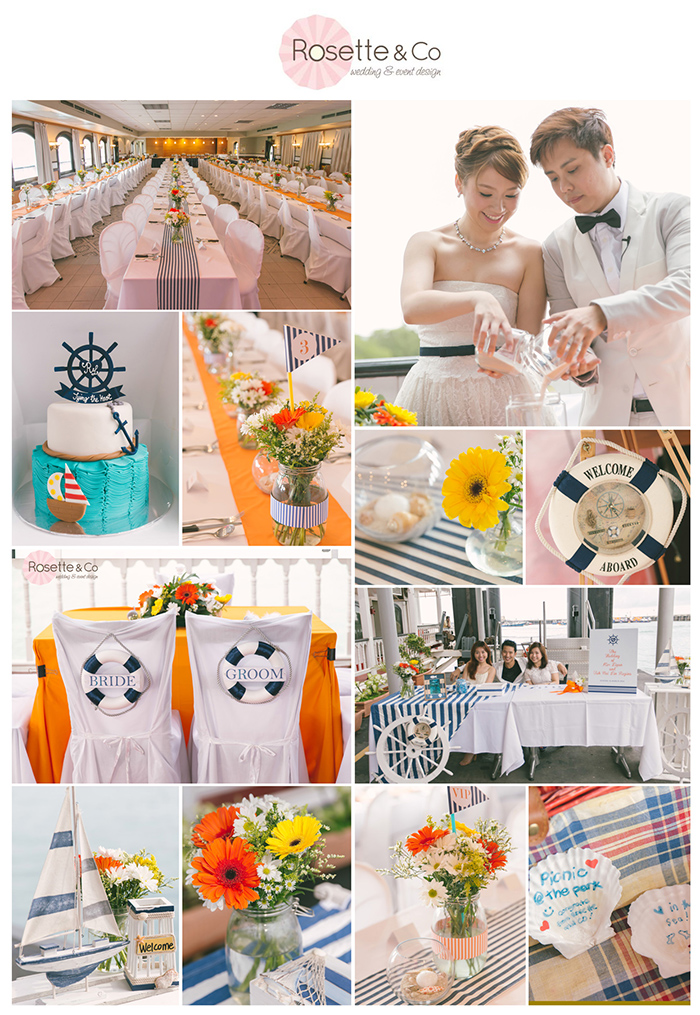 We're interested to hear about the weddings that you have designed! What are your favourite themes or types of weddings to design?
We love casual and curated weddings. Currently, nautical themes are one of my favourites, as we just did a nautical-themed design for one of our wedding couples. I also like the vintage theme – ­ I used to like it very much, but I feel that it is a theme that is often requested, and is becoming too common.
Personally, I really enjoy working on meaningful designs that are inspired by a personal story or experience that the bride or groom has. One of my clients wanted the design of butterflies to be featured in the decorations of her wedding. She chose it as the emergence of a butterfly from a chrysalis symbolises renewal and the start of a new beginning.
I recall another couple who wanted a 70's themed decoration for their wedding. It was a memorable wedding for me as the groom did not like the proposed design in the initial stages of planning and discussion. However, on the actual day of the wedding, he was impressed the decorations at the wedding venue, and thanked us repeatedly for creating this design.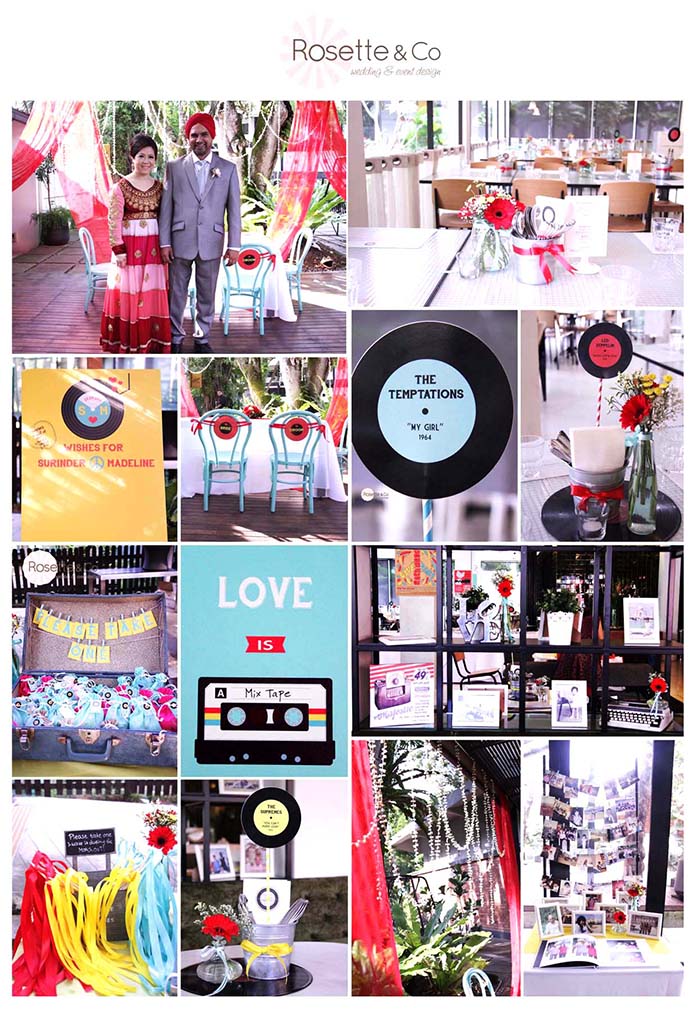 What inspires you? Where do you get ideas for your wedding designs?
I am inspired by images on Pinterest and the Martha Stewart Weddings magazine.
I love getting inspiration from the art and interior design industry. It is refreshing to find inspiration from sources beyond the wedding industry. We are inspired by a variety of sources and ideas, and create something new from these sources of inspiration.
What is the most challenging wedding that you have designed?
Once, we had a request for a "hanging garden" to be hung on the ceiling of a ballroom. The height of the ceiling was 6 metres, and the structure was not tested for this sort of decoration.
It was the first time the hotel received a request for such a complicated design!
We managed to create the effect of a lush "hanging garden". However, I was constantly praying that the structure would not drop down!
Another potential challenge will be an upcoming wedding at Nikoi Island. The number of people allowed on the island is strictly regulated, so we are sending in a team of only three members (a designer, planner and coordinator). They will have to complete the entire set up, such as arranging the flowers and hanging up all the decorations within a short time frame!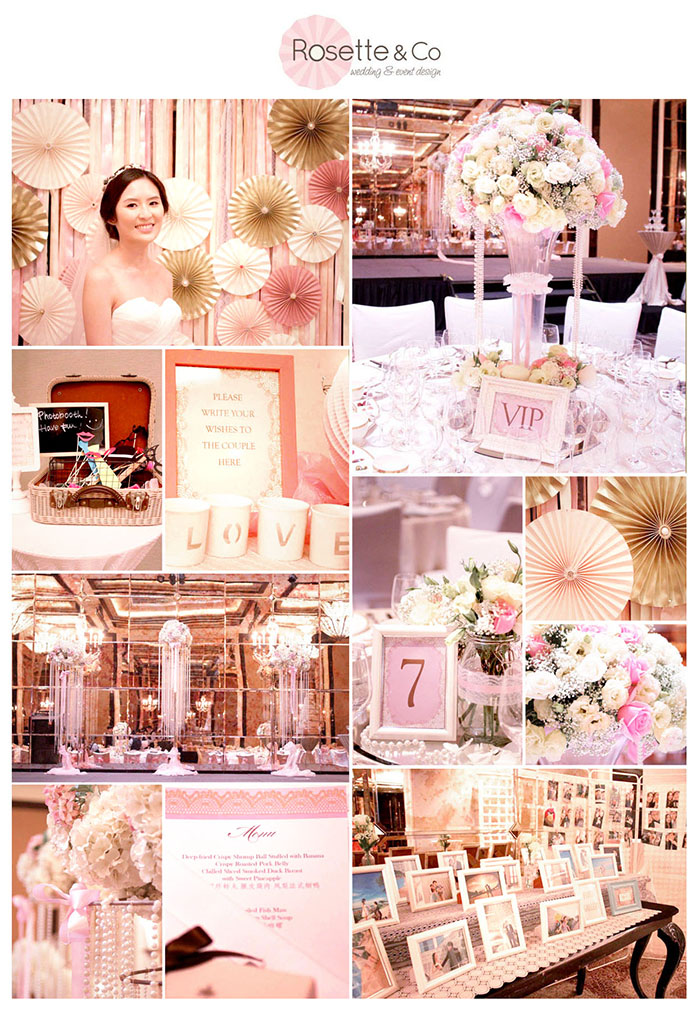 Having worked with so many different couples, what are some of the biggest problems or issues that the brides and grooms face when they are in the process of planning their wedding?
I think that in most cases, the problems that arise in the wedding planning process are due to external sources or factors. Family members, guest invitation issues that crop up, or objections from family members are some of the causes. These problems are more common among couples who want to hold a large­ scale wedding, as the planning process requires a greater level of involvement from more family members.
Also, communication problems may arise between the wedding couples. We have met up with brides and grooms who had opposing ideas on the 'look' of their wedding, and could not agree during our meetings with them.
Do you have any tips to help brides and grooms in their wedding planning journey?
The couple should brainstorm on the design and other aspects of their wedding, and to have a mutual agreement before they meet up with their wedding designers or vendors.
Also, be creative and original. Do not simply follow "looks" or images of event set up that they have seen. It helps to keep an open mind, be adventurous and willing to take up suggestions offered by their wedding designer.
Want to find out more about Rosette Designs & Co? Check them out at: